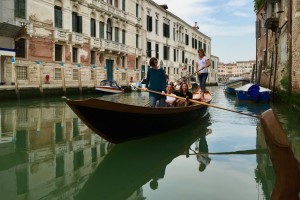 Since its early days, Venice was designed to be experienced from the water. Yet, from the 14th century on it has been progressively acquiring a fascinating 'land perspective'. Now, an intricate maze of winding streets almost outclasses the labirynth of twisting natural canals, offering beautiful views on extraordinary pieces of architecture and accesses to secret places.
Both its water and its land perspective have made Venice so distinctive and worthwhile seeing. Two separate networks that, if experienced together, convey the whole picture. One may enjoy the water side of Venice in a passive way, by sitting on a comfortable watertaxi, a gondola or inside a crowded waterbus, or either by committing himself or herself actively.
Venetian style rowing is a very sustainable activity that many Venetians still practice aboard hand-crafted traditional boats, standing up and facing forward, like gondoliers do. What about taking a 2-hour guided walking tour to learn more about Venice and its history and, in the end, and after a drink, joining a 90-min rowing lesson, conducted by the 'Row Venice' staff?
Duration: 2-hour walking tour
(Entrance fees, if any, not included)
Language: English, German or Italian
Price: from 160 euros 
Optional: (with Row Venice staff):
1,5-hour rowing lesson (max 4 people together)
Rowing lessons may start at 10 am, 11.30 am, 1 pm, 2.30 pm and 4 pm
For fees and bookings please contact www.rowvenice.org